Snowbird Lifestyle Presentations
Snowbird Lifestyle Presentations are events designed to showcase products and services related to your snowbird lifestyle.
Getting the most out of life is what really matters, and snowbirds have a great way of doing it! If you are planning on heading south this winter, spend the afternoon with us. All shows are free and open to the public.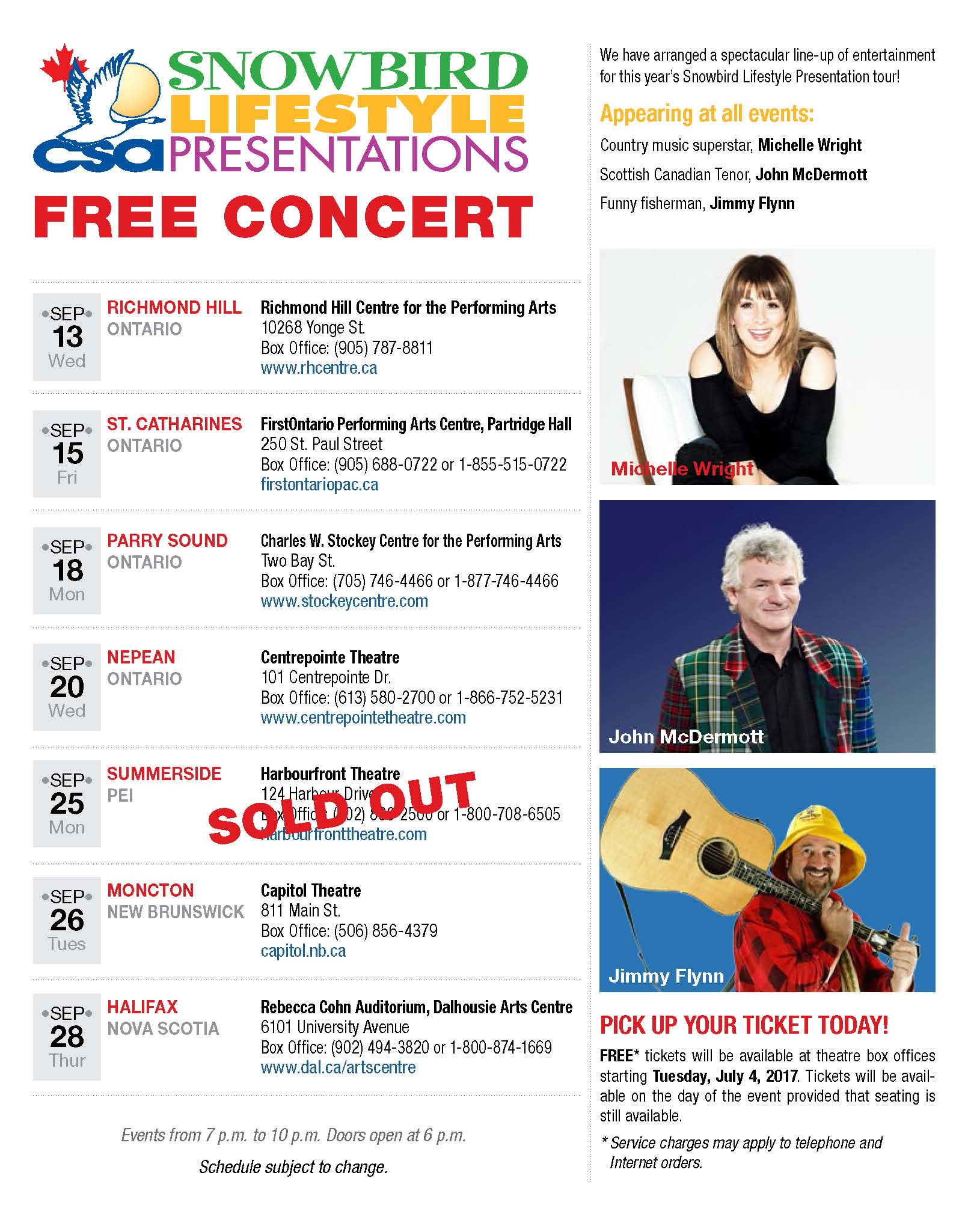 We have arranged a spectacular line up of entertainment for this year's Snowbird Lifestyle Presentation tour!
Appearing at all events:
Country music superstar, Michelle Wright
Scottish Canadian Tenor, John McDermott
Funny fisherman, Jimmy Flynn

All events are from 7 p.m. to 10 p.m. (doors open at 6 p.m.). Schedules subject to change.
*Service charges may apply to telephone and Internet orders.
Dates and Locations:
Wednesday, September 13
Richmond Hill, ON
Richmond Hill Centre for the Performing Arts
10268 Yonge St.
Box Office: (905) 787-8811
www.rhcentre.ca
Friday, September 15
St. Catharines, ON
FirstOntario Performing Arts Centre, Partridge Hall
250 St. Paul Street
Box Office: (905) 688-0722 or 1-855-515-0722
firstontariopac.ca
Monday, September 18
Parry Sound, ON
Charles W. Stockey Centre for the Performing Arts
Two Bay St.
Box Office: (705) 746-4466 or 1-877-746-4466
www.stockeycentre.com
Wednesday, September 20
Nepean, ON
Centrepointe Theatre
101 Centrepointe Dr.
Box Office: (613) 580-2700 or 1-866-752-5231
www.centrepointetheatre.com
Monday, September 25
Summerside, PEI
SOLD OUT - if you would like to be placed on a waiting list for the event, please contact the box office.
Harbourfront Theatre
124 Harbour Drive
Box Office: (902) 888-2500 or 1-800-708-6505
harbourfronttheatre.com
Tuesday, September 26
Moncton, NB
Capitol Theatre
811 Main St.
Box Office: (506) 856-4379
capitol.nb.ca
Thursday, September 28
Halifax, NS
Rebecca Cohn Auditorium, Dalhousie Arts Centre
6101 University Avenue
Box Office: (902) 494-3820 or 1-800-874-1669
www.dal.ca/artscentre
Related contents